Tefter
The bookmarking productivity toolkit for teams
Hello world 👋.
So far we haven't shared much about the product, and our vision. We keep a changelog for feature and bug fixing announcements, but it's not enough. There's research behind feature and countless small improvements not mentioned in the changelog. We promise to be more open and this blog is an ambitious start.
Product
So.. what is Tefter exactly? It's a tool to keep track of interesting stuff you read on the internet (bookmarking), an engine to discover new stuff to read through feeds and people you follow (social , discovery) and ultimately a productivity booster when working with others (team collaboration).
Team Collaboration
This is our big bet, we have been developing and testing this feature for many months now, starting from a Slack app, then overhauling our extension Omni and establishing feature parity on tefter.io.
Try teams out for yourself here https://tefter.io/teams/free-trial
Here's a video of our Slack app 👇
Here's one of our extension Omni 👇
Mission
Lightning-speed access to all the important links of your team, through a browser extension, mobile, desktop app and Slack integration.
Use Cases
Team members will spend less time looking for documents in Confluence, google drive, <insert tool>. All it takes is to ask our Slack bot with "@tefter search some-feature" for our bot to respond with all the relevant links instantly. Same goes for the extension and mobile, desktop, command-line apps.
For commonly used links, there is our aliases feature. You can assign a word to a URL
and then refer to that word for the full link to appear. For example you could assign standup to https://zoom.us/j/4242842784237571337 which would be difficult to memorize. Then, with the extension installed, you just type in the browser's address bar go/standup and hit enter.
Tefter is also great for onboarding team members, invite them to your Tefter team and all the important links will be at their fingertips, neatly organised and full-text searchable (with support for PDF search).
In fact, Omni was used multiple times for the writing of this post. I was looking for the YouTube video of our Chrome extension, I hit alt + k, typed "using" and bingo!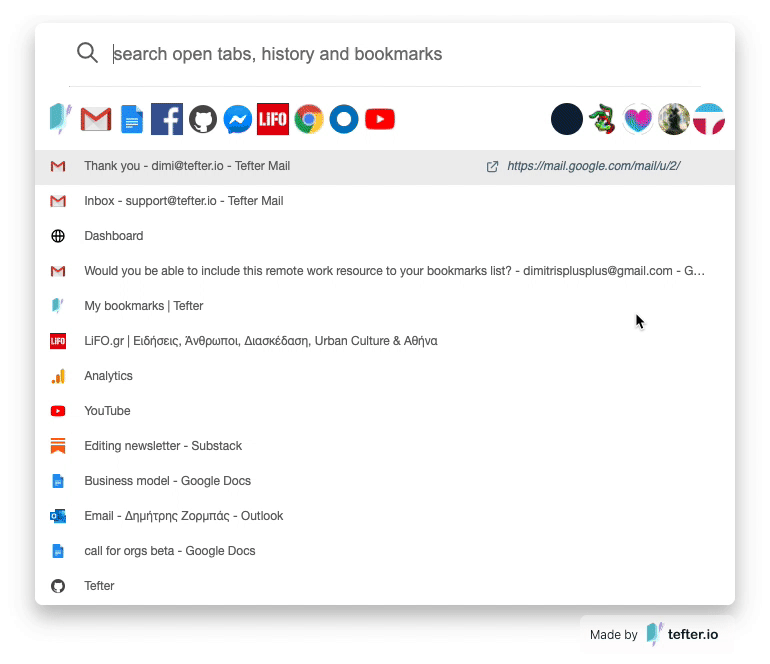 Comparison
We consider Golinks and Pocket our main competitors and here's how we compare:
Golinks
Tefter is richer in features. Tefter combines shortlinks, which is the feature Golinks offers, with bookmarking, feed subscriptions, content organization through the use of lists and tags and very powerful browser extension and Slack integration. We are also a lot cheaper given we don't charge per user. For example for a company of 200 employees, Tefter is priced at $399 compared to $9576 for Golinks.
Pocket
Through Tefter you can discover new content by following other users, you can create public lists and interact with bookmarks other users have shared. Tefter is suitable for teams and you can use it for your personal bookmarks and work with a single account.
Tefter's browser extension is much more advanced, providing configurable fuzzy search in your bookmarks, open tabs and history (optional). Tefter is also cheaper, with the pro subscription priced at $30 compared to $44.99 per year.
Conclusion
We should write blogposts more often 🙂. In our following posts we promise to cover more features and share some details about our tech stack, stay tuned!
Until our next blogpost, you can: